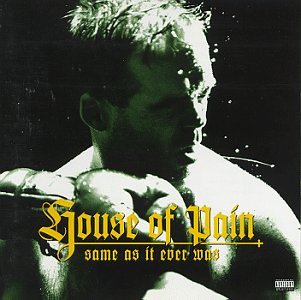 Well, after a few days away, I'm finally back from the dead. Like the classic House Of Pain '94 tune, no pun intended. It's nice to have a funtioning computer again, even if it is psycho. Haha. One of these days, maybe I'll hit the jackpot and finally upgrade to a laptop. God knows I haven't had one since that first ESPN stint in Bristol nine years ago which had a sad ending. Word of friendly advice. Never stay in a Motel 6. :-P
There's so much going through my mind. Been doing lots of stuff here including fixing up the old room. When it's completed (still a long way to go), it'll be more hockey themed with two cool Team USA Olympic banners I picked up at Gerry Cosby's before the Islander destruction last week. Why does that game feel like so long ago already? Go away from here a few days and things sure change. Even if the Rangers' postseason chances continue to hang by a thread with another must win at Nassau Coliseum in a few hours on the second night of Passover. As for the banners, I got
Ryan Callahan
and
Patrick Kane
. Unfortunately, Cally's nicked up and might miss another game. How he has 19 goals on this roster minus a No.1 center is a miracle. What if someone could get the puck to him? He's no star but just a solid hockey player who on a good team, would be a tweener who could play third line and moved up if needed. A poor man's
Jamie Langenbrunner
.
Speaking of which, I was always a huge fan of the Devil captain and pined for us to trade for him back in the Dark Ages. Of course, we wound up with
Todd Harvey
instead. The Heartbeat was very rootable but just couldn't deal with the physicality which took its toll. While he eventually went elsewhere like they all do, the Devils acquired Langenbrunner and
Joe Nieuwendyk
from the Stars for '00 Cup hero
Jason Arnott
and
Randy McKay
. We all know how that turned out with Langs an integral part of New Jersey's third championship in 2002-03 teaming with
John Madden
and
Jay Pandolfo
to form a deadly checking line that produced while limiting opponents. That said, they don't win without
Grant Marshall
to
Jeff Friesen
in Game Seven ECF at Senators, signaling the end of
Wade Redden's
NHL career. Slats?!?!?!?!?! Simply amazing. I can't figure out what's crazier. That that unlikely combo came up roses for Lou or that our senile GM actually signed Tinman and then made that pathetic statement about him being the
best first passer
. Best first passer my ass! Maybe for opponents who are too busy blowing by him in hysterical laughter.
So, there's an
important
game tonight. Why am I not talking about it? Well, if you're a suffering Ranger fan because we all know this franchise is going the wrong way like my favorite
John Candy
character from Planes, Trains and Automobiles, what makes you believe they'll win tonight? This team hasn't been able to get it done. Montreal. Boston. St. Louis. Toronto. Why will it be any different against what figures to be a fired up Islander squad hell bent on putting the final nail in the 2009-10 coffin off last week's stunning no-show at Mediocre Square Garden? For those logical reasons, I just can't get too excited for this. As I've said before, these guys remind me of the sadsack loser teams we had pre-lockout. I already
made the '02-03 comparison
when the same Isles gave us every chance but our team choked. This time, it's the Flyers who apparently are Devil kryptonite and the Bruins, who get that same team they can't beat making for two must watch games at 7. How many fans will be laughing at the chaos? Hopefully, it won't make us pour more wine.
A few other thoughts:
-Congrats to the Coyotes on making the postseason. What an amazing job
Don Maloney's
done. Even if he'll always get flak for
Hugh Jessiman
, the former Ranger assistant GM deserves kudos for helping turn around the troubled franchise in the Desert. It began last year with his deadline deal of
Derek Morris
here for
Petr Prucha
and
Nigel Dawes
(Cgy). Morris returned at this year's deadline and aids a strong blueline led by rejuvenated
Ed Jovanovski
and emerging
Keith Yandle. Adrian Aucoin
was a brilliant move.
Matt Lombardi's
turned
Olli Jokinen
into a joke. Key pickups
Lee Stempniak
and
Wojtek Wolski
have boosted scoring minus
Scottie Upshall
.
Radim Vrbata
loves Phoenix and so does expected Jack Adams winner
Dave Tippett
. Great hire by Maloney, who can thank the NHL for forcing Gretzky out. Sad.
Lauri Korpikoski
has more of a role than
Enver Lisin
ever will on Broadway. Then there's
Ilya Bryzgalov
, whose play is Hart worthy. Where would they be without him? Even Ranger reject
Jason LaBarbera
has panned out. From risky moves like Stempniak who's pumping in a goal-a-game probably leaving
Brian Burke
speechless- to underrated signings like
Vernon Fiddler
and
Taylor Pyatt
, it's all worked out for the 'Yotes, whose 100 points are a franchise record. Truly a dream season with the first playoffs since '01-02 still to come. We'll also be having a special feature on these Coyotes very soon. Stay tuned.
-It's awfully hard to ignore what
Jimmy Howard's
doing in Detroit. Even if the just turned 26 year-old rookie netminder looks like he'll edge
Tyler Myers
and
Matt Duchene
for the Calder, he's every bit as worthy as chief Vezina contenders Bryzgalov and
Ryan Miller
. It's hard to ignore the 22 straight starts and amazing post-Olympic stats that have the former University Of Maine star 11-2-1 with a 2.11 GAA, .923 save percentage plus a 33 save shutout in a 1-0 skill competition road win over the Predators Sunday. Not a bad way to celebrate 26 a day later. In his first full season, the former '03 second round gem (64th overall) from Ogdensburgh, New York has gotten into 57 games (55 starts) while posting a 32-15-9 mark with a 2.24 GAA (3rd NHL), .926 save percentage (4th NHL) and two shutouts. His 32 victories rank 10th with unflappable
Martin Brodeur
pacing the league with 41 wins- one better than Bryzgalov and
Evgeni Nabokov
. Miller is fifth with 38 wins trailing
Jonathan Quick
(39).
Aside from Bryzgalov and Miller who both deserve to be nominated for the Vezina, there's not a clearcut third choice. Brodeur's got solid numbers (41 W 2.37 GAA .912 Save Pct 7 SHO) but hasn't been as consistent. Nabokov (40 W 2.39 GAA .923 3 SHO) has had another good season but is supported by one of the league's best offenses. Though many will contend his D isn't as good as years past. What about
Craig Anderson
(36 W 2.60 GAA .919 7 SHO), who has the Avs on the verge of the playoffs? Neither
Miikka Kiprusoff
nor
Roberto Luongo
will be included even if Kipper has had a nice bounce back year while Louie has gone in the tank since winning gold in Vancouver.
Jaroslav Halak
doesn't have enough starts and
Tomas Vokoun
plays for Florida. It could be that Howard is the best of the pack, carrying the load in goal with
Chris Osgood
riding the pine. For a first-year player to perform this well with the team needing every win to
keep their playoff streak intact
, it speaks to the maturity. Good on Detroit for not rushing J-How.
-Every time the Hart is discussed, it's
Alexander Ovechkin
and
Sidney Crosby
, who are one goal apart in an exciting Rocket Richard race that also includes super soph
Steven Stamkos
(45 goals). Nobody is more lethal than Ovechkin, whose top seeded Caps have a remarkable record since he became captain. Meanwhile in Pitt, Sid The Kid's putting together his best campaign with a career high 47 markers and 94 points placing third behind Ovie (46-54-100) and Art Ross leader
Henrik Sedin
(28-73-101). Crosby's had to be better because
Evgeni Malkin
hasn't been himself. Even if injuries are part of it. AO has overwhelming support on the league's highest scoring team (287 GF) from
Nicklas Backstrom
(29-61-90),
Alex Semin
(35 goals),
Mike Green
(17-54-71) plus strong castmates
Brooks Laich
,
Tomas Fleischmann
and
Mike Knuble
. It's Crosby who's accounted for 20.5 percent of his team's 229 goals while AO counters with 16 percent of the Caps' 287. In games he's missed, they've won still scoring at a rapid rate (53 GF in 10 GP, 7-2-1 record incl. 2 losses to NJD).
What of Sedin's career year that's seen him hit the century mark with a league leading 73 helpers? Impressive stuff while twin brother Daniel missed 18 games but has returned producing ridiculously (75 Pts in 57 GP). Most notable is that neither has done much on the power play, meaning the bulk of it came at even-strength helping support their plus/minuses (Henrik-33 Daniel-32). One could argue Ovie's league-leading plus-43 as evidence of the mighty Russian's improvement. Will the suspensions hurt in the public eye of a player who's won the last two MVPs? Hard to say. It's clear that these are the three top candidates offensively speaking. Where does that leave Bryzgalov and Miller, who are front and center backstopping pedestrian offenses (Phx-198 GF Buf-211 GF)? One could cite similar with Brodeur on a Devil team that's produced 197 goals. The bigger question is has
Zach Parise
supplanted him as the team's most important player? If Parise went down, it's probable that they'd fall apart speaking to
how much the Devil leader in half a dozen offensive categories
could be sorely missed. When you look at their offense, a Devil fan can say why isn't Zach Attack a candidate? They wouldn't be wrong either. Good thing they got
Ilya Kovalchuk
(8-12-20 in 20 GP).
No doubt deciding this year's Hart is tough because all three offensive standouts are worthy as are the aforementioned goalies who give their teams a chance every night. Crazy as it sounds,
Duncan Keith
would've been a good candidate before Chicago started losing. Perhaps the lack of a No.1 goalie is finally showing.
Patrick Kane's
had a great season but is he really more valuable than Keith or
Jonathan Toews
? San Jose trio
Joe Thornton
,
Patrick Marleau
and
Dany Heatley
all play together and boast Nabokov,
Dan Boyle
, captain
Rob Blake
along with an overlooked cast of
Joe Pavelski
,
Ryane Clowe
,
Devin Setoguchi
,
Manny Malhotra
and
Jason Demers
that get little fanfare. The Sedins have
Ryan Kesler
,
Alex Burrows
,
Mikael Samuelsson
,
Mason Raymond
along with arguably the best D plus the overrated Luongo.
The Sabres are led by a finally healthy
Tim Connolly
,
Derek Roy
, Myers,
Thomas Vanek
and
Jason Pominville
. Not exactly earth shattering for Miller who gets it done. How do you ignore a .930 save percentage? Two more wins and he reaches 40. Even if shootout induced sans MB30, it's still impressive. Did anyone have Bryzgalov leading the league in shutouts (8) with 40 W's on a franchise minus an owner who's leading scorer Doan has 53 points? In our book, that's the deciding factor. Yep. We say Ilya Bryzgalov deserves the trophy. Even with Tippett behind the bench, it's impossible to ignore the 'Yotes emergence. Buffalo was expected to be good and the Caps, Pens, Canucks and Devils were always going to be there. He deserves to be the first netminder to win the Hart since
Jose Theodore swept MVP/Vezina in '01-02 for Montreal. Yep. That guy.

-Norris Race:

1.Duncan Keith
2.Mike Green
3.Drew Doughty

-Selke Race:

1.Ryan Kesler
2.Jordan Staal
3.Mike Fisher