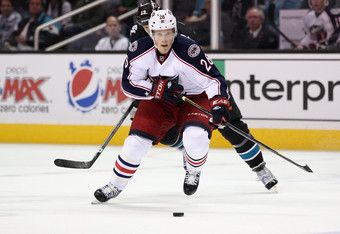 Former Cup winner Sami Pahlsson could help Canucks win first ever championship.
A second consecutive year saw GMs balk at overwhelming prices. Like 2011, only 16 trades were struck at the NHL Trade Deadline. Whether it be parity or not willing to budge, more executives are playing a game of chess. We might just have to get used to it unless the next CBA makes it easier for big moves to be made.
The big winners for this year are Nashville, Vancouver and Boston. All made solid deals that bolstered their chances of winning it all. Without further notice, let's break down every trade.
1.Bruins acquire: D Greg Zanon
Wild receive D Steve Kampfer
Breakdown: Boston adds a rugged blueliner who'll block shots and deliver checks, addressing a need. Minnesota gets a young D who will be part of their rebuild.
2.Bruins acquire: D Mike Mottau and F Brian Rolston
Islanders receive: D Marc Cantin and F Yannick Riendeau
Breakdown: Boston adds depth to back end and up front. Rolston returns home, which should be a boost. The Islanders get what they can for two expendable parts. Don't know too much about either player.
3.Canucks acquire: F Sami Pahlsson
Blue Jackets receive: D Taylor Ellington + 2 4th Rd Picks ('12)
Breakdown: Vancouver gets another reliable faceoff guy who's won a Cup. Not bad to send out Pahlsson and fourth ranked
Manny Malhotra
for defensive draws. Columbus gets decent value in return.
4.Canucks acquire: F Zach Kassian and D Marc-Andrei Gragnani
Sabres receive: F Cody Hodgson and D Alexander Sulzer
Breakdown: By far the most intriguing move with both clubs moving prospects. Canucks add physical wing in Kassian while the Sabres believe Hodgson can be their top center. Gragnani could also provide offense in Vancouver. Great trade.
5.Canucks acquire: F Andrew Gordon
Ducks receive: D Sebastian Erixon
Breakdown: Vancouver adds depth up front while Anaheim hopes Swede can one day crack blueline.
6.Predators acquire: F Paul Gaustad + 4th Rd Pick
Sabres receive: 1st Rd Pick
Breakdown: Nashville gets a physical faceoff guy in Gaustad, who provides depth for push while rebuilding Buffalo does well recouping a first rounder for player who turns unrestricted.
7.Predators acquire: F Andrei Kostitsyn
Canadiens receive: 2nd Rd Pick ('13) + Conditional 5th ('13)
Breakdown: The Preds boost scoring by reuniting the Kostitsyns in Music City. Will it pay off? Gave up good value to Les Habitants.
8.Oilers acquire: D Nick Schultz
Wild receive: D Tom Gilbert
Breakdown: In one of those WTF deals, the Wild give up their emotional leader on the back end for a more offensive minded D in Gilbert, stunning Schultz and even returning
Kurt Foster
. Looks like steal for Edmonton.
9.Leafs acquire: D Mark Fraser
Ducks receive: F Dale Mitchell
Breakdown: Not exactly what desperate Leaf Nation had in mind although Fraser will play physical. Anaheim got someone back for extra D.
10.Leafs acquire: F Carter Ashton
Lightning receive: D Keith Aulie
Breakdown: Another good trade that could benefit both teams. Toronto gets former first rounder while Tampa adds young D prospect to fill void. Aulie was in
Dion Phaneuf
trade.
11.Sharks acquire: F Daniel Winnik and F T.J. Galiardi + 7th Rd Pick ('13)
Avs receive: F Jamie McGinn, F Mike Connolly and F Michael Sgarbossa
Breakdown: Short term, it could boost Sharks' chances. But long-term, McGinn looks to have big future. Plus two other prospects.
12.Lightning acquire: D Mike Commodore
Red Wings receive: Conditional 7th Rd Pick ('13)
Breakdown: Likeable character guy Commodore 64 gets chance to help Bolts try to squeak in. A nice gesture by
Ken Holland
.
13.Senators acquire: D Matt Gilroy
Lightning receive: D Brian Lee
Breakdown: Solid puck moving Gilroy on third team in a year, who could provide offense for surprising Sens while former first rounder Lee, who went ahead of
Marc Staal
, gets a scenery change in St. Pete.
14.Blackhawks acquire: D Johnny Oduya
Jets receive: 2nd Rd + 3rd Rd Pick ('13)
Breakdown: Chicago desperate for blueline help add Johnny Five while Winnipeg gets great return for bottom pair D.
15.Rangers acquire: F John Scott
Blackhawks receive: 5th Rd Pick ('12)
Breakdown: Rangers add more toughness with scary Scott while Chicago gets decent value.
16.Senators acquire: G Ben Bishop
Blues receive: 2nd Rd Pick ('13)
Breakdown: Ottawa adds potential No.1 goalie in Bishop who got caught in numbers game with
Jaroslav Halak
and ex-Sen
Brian Elliott
, who just re-signed. Now, Sens' former No.1
Robin Lehner
won two straight starts with
Craig Anderson
hurt. Go figure.