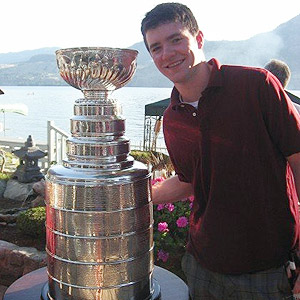 I don't know what else to say other than our deepest sympathies go out to
Brian Burke
and the rest of his family who lost son
Brendan Burke
to a fatal car accident tonight.
Per Globe & Mail's James Mirtle
, the Toronto Maple Leafs released a statement approximately 22 minutes ago following the club's defeat to New Jersey.
More details just came out on the two vehicle accident
in poor snowy conditions that claimed the lives of Brendan Burke and
Mark A. Reedy
while injuring others.
Only 21, Burke was an inspirational story whose strong message when he came out of the closet should always be remembered. ESPN's
John Buccigross
had
a wonderfully touching piece two months ago on Brendan
and his very strong relationship with Dad and the rest of a loving family who always supported him. It is an extremely sad night for the hockey world. Best wishes to the Burke and Reedy families as they mourn the tragic losses.

"

Brendan is an incredible kid. He and I are incredibly close, even for brothers. In most families, the older brother overshadows the younger brother, but not ours. We went to the same high school and people there still refer to me as "Brendan's brother."




He's exceptionally smart, funny, motivated, successful and happy. He has an incredible way with people.

There's a genuine kindness about him that really resonates with people. It's a gift I'm very jealous of.

" -- Patrick Burke, Brendan's brother, now a scout with the Philadelphia Flyers

RIP Brendan Burke