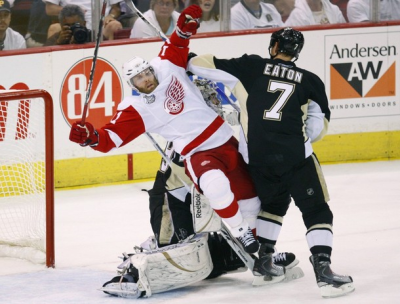 Following a quiet first day, the Islanders had a strong Day Two adding four to their roster.
Garth Snow
bolstered the D
by adding physical blueliner
Milan Jurcina
and shot blocking specialist
Mark Eaton
.
The 27 year-old Jurcina, who's spent most of his time in D.C., got a one-year deal worth $1 million. He should help take care of the front of the net along with 33 year-old vet Eaton, who has always flew under the radar. The former Predator played the past four seasons with Pittsburgh, helping the club win its third Stanley Cup last year. Signed for two years, $5 million, he's solid stay at home defenseman who gets in the path of shots making it difficult on the opposition. In '09-10, he finished with a career high 16 points (3-13-16) in 79 games while blocking 135 shots, which ranked 36th among all blueliners.
Both should bolster an Islander defense that still includes anchor
Mark Streit
,
Bruno Gervais
, injury plagued
Radek Martinek
, youngsters
Jack Hillen
,
Andrew MacDonald
and
Dylan Reese
. Adding depth to a shaky area is wise. But they also got experienced players who can make the blueline tougher.
Speaking of tough, the club also addressed a need by reaching agreement with former Bolt enforcer
Zenon Konopka
on a one-year deal. Last season in St. Pete, the rugged 29 year-old from Niagara, Ontario played his first full year achieving career highs in games (74) and penalty minutes with his 265 pacing the NHL, including a league-leading 33 fighting majors. Seven better than
Ian Laperriere
and eight more than current Ranger
Brandon Prust
. Team toughness was an issue for the Islanders with teams taking runs at
John Tavares
. With Konopka aboard, that should no longer be the case.
The Isles weren't done also adding former Ranger
P.A. Parenteau
. After spending much of his pro career in the AHL including three seasons with Hartford, the 27 year-old from Quebec finally got a shot faring alright on Broadway. In 22 games, the shootout specialist registered three goals and five assists for eight points. Three of the points came on the power play. Possessing decent speed and hands, Parenteau just might be a surprise for the Long Island club. He certainly knows how to finish as evidenced by a couple of memorable shootout winners, including one at Ottawa with his family in attendance. For P.A., it's a chance to show what he can do.
There are rumors that both the Islanders and Rangers may be interested in
Alexander Frolov
. Our nickname for him is Russian Enigma. Buyer beware.
Kovalchuk Still Deciding: As far as
Ilya Kovalchuk
, nothing new on the surface. Looks like it's a two horse race for the exciting Russian who overvalued the market. Will it be Hollywood which is much closer to Russia or Newark for the sniper? Much like LeBron in the NBA, we probably won't know until this Fourth of July weekend is out.