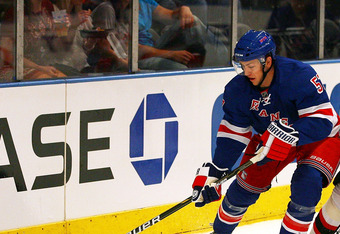 They could be Derek and The Dominoes sooner than expected.
Derek Stepan
showed off the same skills that helped Team USA win the WJC and lead Wisconsin to the NCAA finals where they fell to
Chris Kreider
and Boston College. In the Rangers' fifth preseason game, the 20 year-old center from Hastings, Minnesota made a bid to stay on Broadway- posting his first preseason goal and an assist in a 5-1 win at MSG over the Red Wings.
Also having strong games were
Ruslan Fedotenko
(2 A),
Sean Avery
(G, +2),
Erik Christensen
(A, +2),
Mike Sauer
(G, +1) and
Pavel Valentenko
(A, +2). Along with Stepan, each bolstered their cases to make the big club. Marian Gaborik was dominant as well, recording a power play goal and a helper while linemate
Alexander Frolov
made a sweet dish to a cutting
Mike Del Zotto
, who finished a give-and-go for the night's final goal.
All in all, a good night for
John Tortorella's
club who continues to show offensive improvement thus far. A trend that must continue if they're to be taken seriously.
Henrik Lundqvist
was also sharp, allowing only a deflection to beat him while staying busy with 35 saves.
Earlier in camp, Tort tried Stepan with Gabby and Frolov to some success. Tonight, he played between Avery and Fedotenko with the trio having solid chemistry. They were effective on the forecheck and created all game. No wonder they combined for two goals and three assists, thrilling fans and probably the coaching staff as well. In fact, Avery had drawn praise from the fiery coach for his work in front. He's been real good the last three games, scoring in a second straight while driving
Ilya Kovalchuk
and
David Clarkson
cuckoo. If the instigator can sustain it, then he'll have a place in the lineup permanently.
Gotta also give due to Fedotenko, who's really done a solid job showing he still has hands. Granted. He's on a tryout and it's his former coach. But he has made the most of it. I see no reason why they can't start him on say a third line with Avery and Stepan. With
Artem Anisimov
also looking stronger than last year and
Ryan Callahan
playing like a beast, this team actually might be exciting. Especially if
Vinny Prospal
returns healthy.
As for Stepan, he came on late in a second Detroit dominated with ex-Devil
Brian Rafalski
getting the only goal while outshooting the hosts 14-9. However, a late shift by Stepan exemplified why many are encouraged by him. With over 10 seconds left, he outhustled a Wing to a loose puck and then got around Rafalski, forcing
Jimmy Howard
to make a tough save. That kinda yeoman effort is what separates Stepan from the pack. He rarely looks lost out there and is a solid all around player. Early in the third, he got rewarded when a Fedotenko kicked a Valentenko rebound right to Stepan, who deposited the loose change.
Even with a crowded position, it's hard not to see Stepan making the final cut. He obviously has tremendous vision and skill to go with it. If he struggles early, the organization can always send him down to Hartford for seasoning. After all, he's a first-year pro trying to make the quantum leap straight from college. If he's in, that leaves plenty of debate between
Tim Kennedy
and
Brian Boyle
for the fourth line. With Kennedy having another strong showing and Boyle showing better speed, it's anyone's guess who wins out.
The other bright note was the play of Sauer, who's being given one final long look to make good on that second round pick they took in the
Brian Leetch
deal. Injuries have been a bugaboo but he's come in healthy and had an effective game, finishing off a nifty Christensen backhand no-look feed while also playing stellar in his end.
It looks like he's got stiff competition versus both
Ryan McDonagh
and Valentenko. The Rangers have to like what they've seen. Spots actually could be earned before the October 9 road opener at Buffalo. Never a bad thing.